Notational Velocity update breaks nvALT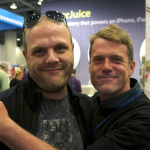 The latest update to the original Notational Velocity is awesome, and includes a lot of changes which I'll be merging in the next release of nvALT. However, it uses a newer database structure which, once you run the new Notational Velocity, will not work with nvALT. Be warned, if you download and try out the latest NV, you will not be able to run nvALT again until I get the changes merged.
I'm coming back from Macworld today, and have a lot of catching up to do all around. I'll be working on nvALT as soon as I'm able, but it may be the end of this week before I'm able to get an interim update out. I'll post here and on Twitter as soon as it's available.
Thanks to everyone I spoke with at Macworld, it was a really great time. I enjoyed meeting all of you!