Tally, let me count the ways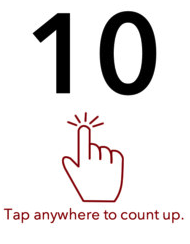 I'm horrible at keeping track of anything without a little help. It's why I love my computer and my iOS devices so much. One area I'm absolutely incompetent in is keeping tallies of things in realtime. The slightest distraction and all of the numbers get jumbled up and I forget where I was. If you've listened to Systematic, you've probably heard it happen.
I've had a few "counter" apps for my iPhone, and all have done the job. Most of them were one-shot apps from developers who've moved on, though, and the last of my original ones just stopped working when I got my iPhone 5. I went out looking for a new one. Something simple.
I discovered Tally after a bit of searching. I don't know how I missed this release from Agile Tortoise, but I'll chalk it up to the previously mentioned disabilities. It's so simple, elegant and worth every bit of 99 cents.
Tap the screen to increment. Swipe down to decrement. Swipe to the left and you can change the value manually, change the number of steps a tap will increment, and set it to count up or down. Swipe to the right and you get a list of saved tallies that you can add to and jump back to.
Swipe up and you get a button for a quick counter reset, as well as my favorite part: a button to send to Drafts (review). It just sends the current count and tally title to a new draft, so you can quickly save a note about it to a Dropbox file or Evernote, Tweet it, send it to OmniFocus, Day One or any of dozens of other actions. It's a great way to keep track of running counts and repeating events in a place other than just within the app.
The only nicety I'd love to see added is "shake to count." It's a minor convenience, but sometimes it's nice to disable the tap counter and be able to hold the phone in your hand and just make a little wand gesture to add to the count. Perfect in situations where you don't want to be holding your phone in front of you. Tally doesn't have this yet, but I'm hoping I can talk the developer into it. Maybe I'll play him a game of Letterpress for it.
I don't have to count things manually very often, but when I do an app like this is a lifesaver. Tally is the most elegant counter I've seen, and it's earned a permanent spot in the Tools folder on my iPhone.
Tally is .99 US on the App Store.