Mac App Review: Trickster, instant access to recent items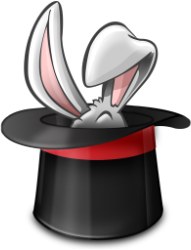 I've been testing an app called Trickster for a bit now, and it's publicly available today (just in time to be included in the impressive Productive Macs bundle). It's a revamp of Apparent Software's predecessor app, Blast.
Trickster basically keeps track of your most recently-used files and applications. It has customizable "filters" that act like folders for different types of files, folders and apps. A good example of its practical application is instant access to recently-downloaded files and the ability to file, install or view them.
I used Blast, and I've used similar apps like Fresh, but none of them ever stuck for me. Trickster smooths out the process and fills in the missing features. I'm using it every day now.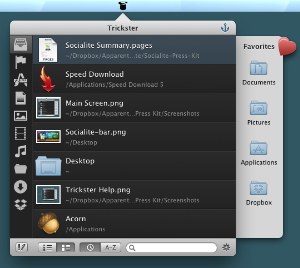 You can tell Trickster to ignore certain files, extensions, folders or text found in a filename. Files that are frequently or automatically modified are easy to keep out of the list, keeping it much more relevant. In the recent items list you can select a single item, or create a multiple selection via mouse or keyboard and act on all of them at once.
There's a Favorites drawer where you can put frequently-used files, folders and apps, and you can use them as targets to drag files from the main stream to. I have my Applications folder in there for easily installing downloaded apps. I also have my 7 most important applications in there, replacing the space I used to have reserved in my Dock. Since they were the only apps I ever kept permanently in my Dock, I'm back to having a very trim one.
You can assign a hotkey to pop up the interface, and it's almost completely keyboard navigable. The only keyboard action really missing is the ability to act on a file with something from the Favorites drawer. You can access any of the contextual menu items with M, though.
There's also a Flagging feature, and you can filter by flags. There's a default filter for flagged items, but you can also create more specific filters, e.g. a folder for flagged applications or important PDFs. The window is resizable and there are a couple of different layouts available (simple and full).
Trickster is US $4.95 until June 11th, after which it will be $9.95. There's a free trial available for download on the product page. If you're interested and you haven't missed the deadline, grab it as part of the Productive Macs bundle (US $39.99) and get a bunch of really cool apps at the same time.