iOS App Review: Reading List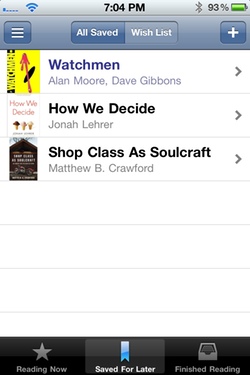 Reading List for iPhone is a polished app that does one thing, and does it well: track your books. It helps keep track of the books you want, the books you have, the books you're reading and the books you've read. If you still enjoy the rustle of paper pages in this era of the E-Reader, this is a handy app to have.
The app serves as a database of books. You can add a book by entering relevant details and a picture, or just scan the ISBN code on the book and have Reading List automatically look up and add all the details, plus a cover image. The scanner is great for cataloging your own books, but even handier at the book store when you want to add a book to your wish list.
Once a book is added, it's just a couple of taps to move it to different parts of the database; Reading Now, Saved For Later (which includes books on your wish list) or Finished Reading. Books in the Saved For Later category can be marked as Wish List items with another tap. Once you've obtained the book, just remove the Wish List category and it goes to Saved For Later, or put it straight into Reading Now.
Even if you're reading your books digitally, Reading List offers a great way to track your current reads and your plan-to-reads. Check it out on the App Store ($2.99). Watch here for a chance at some free promo codes soon, too!