Instapaper Beyond for Safari

The Instapaper Beyond Extension now has it's own page. Check it out!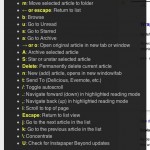 Instapaper Beyond is officially available as a Safari 5 extension! For Safari users new to Instapaper Beyond, it's an extension which adds full keyboard navigation and Ajax loading to Instapaper. For example, when the page loads, the first article in the list is highlighted. Using up/down arrows, or j/k, you can navigate forward and backwards. Right arrow or "o" will open an Ajax view of the article from which j/k will continue to navigate articles in text mode.
Pressing the spacebar in text view will page down 1 page (shift-space to page up), and at the bottom of a page, spacebar will load the next article. "s" will go to starred articles, "S" (shift-s) will star an article, etc. There are tons of commands available in addition to basic navigation, and the context-sensitive help is always a key away (h).
I recommend turning off auto-archiving of articles . Now that you can archive an article with Shift-A, it's just as easy to take manual control, and less confusing when using the Ajax view.
I'm sure I'll continue to tweak and bugfix this extension, but I set up the auto-update manifest in the extension, so any updates will automatically install for Safari 5 users. Use the link below to download the extension, then double-click the downloaded file to install it. You must have extensions enabled in your Safari preferences.
Also, the Instapaper Beyond userscript for Fluid has also been updated to version 1.8, with improved spacebar handling and a few minor tweaks. Just press "U" in your Instapaper SSB to update to the latest version. You can read more about the original Instapaper Beyond script for Fluid here.
Download the extension here: Instapaper Beyond for Safari
Enjoy!