Clippable updated, goes mobile
I've pushed out an update to Clippable, for better or worse. In addition to the previously added line number removal for code blocks, it removes spans used in TextMate formatted code and adds some keyboard shortcuts:
Left arrow: switch to light on dark
Right arrow: switch to black on white
Delete key: return to normal formatting
Escape key: return to original page
These features are added without modifying the original bookmarklet, so if you've got it installed, you've got the goodies already. Otherwise, head over to the Clippable bookmarklet page and try it out.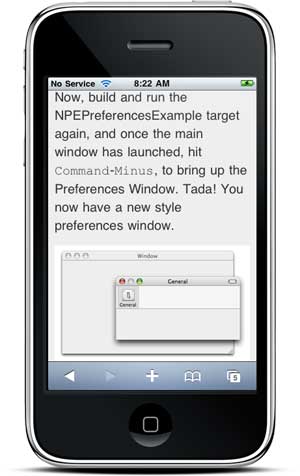 The big news, though, is the introduction of Clippable Mobile. It's a work in progress, but installs on an iPhone and makes use of the special formatting options available in Mobile Safari. It shrinks images, cuts off code blocks, etc., making every attempt to provide a readable page that doesn't scroll horizontally. There are occasions where it fails on first attempt, but running it again right away fixes everything. I'm still working on figuring out why that happens… a little sleep will probably help. Head over to the Clippable Mobile page on your iPhone and follow the instructions to install it. Bug reports are welcome!