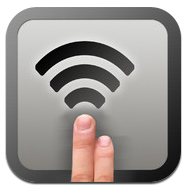 One of my all-time favorite utilities on the Mac is BetterTouchTool, an app that expands the capabilities of your trackpad, Magic Mouse and/or keyboard with a wide variety of configurable gestures and actions. Andreas Hegenberg has just released a companion iPhone app called BTT Remote ($1.99) that makes your iPhone part of the fun, too.
Any of the actions you can configure on your multi-touch device can be triggered via menu items you add to BTT Remote using the same preferences panel the BetterTouchTool uses. Need one to launch iTunes while you're in your living room trying to get to movies from your Apple TV? 5 seconds and you have a button on your phone to do it. Much like EventScripts, but with more options and features. With a built-in file browser and launcher, you can also open arbitrary apps and scripts that you haven't set up actions for as well.
When you're at your computer, BTT Remote is still handy. You can use your iPhone as a trackpad, and you can access the menubar of the foreground application and trigger any item. BetterTouchTool also just added the ability to trigger arbitrary menu bar items as well, so there's very little left that you can't do with it.
BTT Remote requires BetterTouchTool (free) and is available on the iTunes App Store for US $1.99. Check out the BTT Remote homepage for more information.