Nest: initial impressions

I received my Nest (advanced learning thermostat) on Friday. I was on my way out the door to see WITS in St. Paul1, Minnesota. I opened the package and read the 8-page setup manual on the way. I got home late, so I tackled the installation the next day.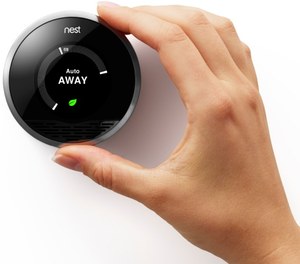 First, let me say that it's as beautiful as the website presents it to be. I recently bought my first house and my wife had mentioned that she wanted a new thermostat. The next week the Nest was announced and I jumped on it; I already had the excuse, it wouldn't be hard to justify later (it was harder than I thought, but I pulled it off). There's a compatibility check on the support website that you can (and should) use to make sure the $249 hardware will work with your system. It's really not picky, and would work with every system I've ever seen (admittedly few).
Installation took me about ten minutes, five of which were spent looking for a wire stripper that I ended up not needing. The Nest comes with wire labels to add to the wires in your existing thermostat before you pull it out, then you just match up the one or two letter codes with the Nest. It comes with optional mounting plates, but I attached mine directly to the wall (as suggested) and it looks amazing. The package also comes with drywall and wood screws, and a cute ergonomic screwdriver (the handle of which opens to reveal a set of bits covering every size you'd need to remove your old thermostat and install the Nest).
Once the Nest is wired up, you just tap it and setup begins. The longest part of the installation was entering my wifi password using the dial, and even that was under a minute. It asks you a few questions about your system (gas or electric, forced air or non, etc.) and boom, it's ready to go.
It can turn on as you approach it using the built-in motion detector. The motion detector also keeps track of activity around it, learning when you get up, when you go to bed, etc. Once you've told it your preferred temperatures, maximum and minimum ranges, it immediately starts taking things into its own hands. This is an intrinsic energy saver, as even if you usually remember to turn the thermostat down when you're leaving and program a sleep pattern, this offers more precise control and deals with times you may forget. Personally, I always forget. I don't like to think about the thermostat, so this works perfectly with my habits (or lack thereof). The motion detector also seems to automatically ignore my three cats, two dogs and the parrot, so it gets a fairly accurate idea of actual human activity around the house.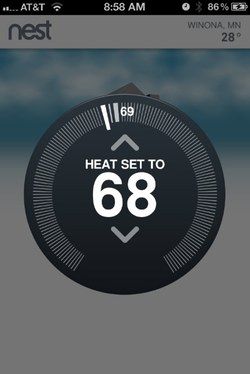 You can control the temperature, the schedule and tell it when you're away from an iPhone, iPad (and probably more) or any web-enabled device. You can remember as you're driving away from the house and set "away" mode with two taps on your iPhone. Setting up a user account in the iPhone software was a breeze and I was logged in and ready to go in under a minute. It's nice being able to make instant adjustments from bed, and knowing that the change is going into the database of your habits makes it all the more comforting.
I only have the Nest set up in one house, in one room. It can handle multiple installations in the same house, though, sharing data between them, as well as installations in multiple homes. If I were a landlord for a few classy joints, I could see this being an amazing tool. You can get weather and sunrise/sunset information for each installation, as well as view and control its settings and schedule. You can lock the device itself so it can only be controlled from a password-protected account.
I've only been using the device for a day. I already have strong feelings for this piece of electronics, probably only matched by the love I have for my Macbook Air right now. I'll update after a month or so and let you know if it lives up to its promise in the long run. If you're already interested, the Nest can be purchased directly from the Nest Labs store for $249.
Addendum: I contacted support on Saturday night to find out if there was any kind of API that I could use to interface it with my home automation system. There's not, yet, but they told me to watch for it. The impressive part is that they responded with a personal message within 15 minutes… on a Saturday night.